Mark your calendar, clear your schedule, and tell your friends—starting January 6th, 2023 (UTC+8), the game publishing service for League of Legends and Teamfight Tactics in Southeast Asia will officially be migrated from Garena to Riot Games.
Although this is a big move, we ultimately don't want to interrupt your playtime any more than is absolutely necessary. But even more than that, we want to make sure that all your hard-earned spoils—whether that means skins, levels, or in-game currencies—come along for the ride. So before League and TFT's services officially migrate over on January 6th (which is also when you'll get to play in Riot Client), read on and follow the following steps to hit the ground running!
Pre-Link Checklist
(November 18th, 2022 UTC+8 onwards)
You're probably eager to get your accounts connected to ensure a smooth transfer, but there are a few things you must have first:
1. A Garena League Account with data progression
It'd be pretty tough to link an account that doesn't exist, but it's also not possible to link an account that hasn't been used. Your Garena League/TFT Account must show some signs of progression (champion mastery, ranked games in your match history, honor or challenge progress, etc) or include unlocked/purchased content (RP, skins, etc) to be eligible for a transfer. If neither is true, then there will be nothing for you to link/migrate to your Riot Account.
2. A Riot League Account with the same server as your Garena League/TFT Account
If you already have a Riot Account with League/TFT progress or content, your two accounts must have the same server for linking to work. If you're looking to link to an existing non-SEA Riot Account with progress/content after our servers go live on January 6th, you'll have to make sure the servers match. If they don't, just use our 1 Blue Essence Server Transfer from now till February 25th, 2023 5AM (UTC+8). After which transfers into SEA will revert to its original cost.
Not sure if you're on the right server yet? Read on to see how you can check!
If, however, your League Riot League Account is brand new, it will automatically convert to your Garena server after the transfer. Need an account? Make one now!
Checking your League Riot Account's Server
Remember—these directions only apply to Riot Accounts that already have League of Legends progress/content! If you have a new Riot Account or a Riot League Account with no progress/data, then the region will default to your Garena server when you link the two, and you don't have to do the following steps! In that case, do not download League on the Riot Client and log in as this may place you on a Non-SEA server that will cause a mismatch during account linking prior to League launching in SEA.
To check your Riot League server, log in to League through Riot Client.
Your current server will appear in the top right corner beneath your Summoner Name for a brief moment as "Online - [server]". That's your server!

What will transfer?
Though this guide covers how accounts will link, we have a separate guide to show you what will migrate. Tl;dr: The receiving Riot League account will generally be overwritten by the Garena League/TFT data, so be sure to read up on the specifics!
Checking your Garena League Account's Region & Server
Open your Garena client.
Go to Settings

Find your account region under General.
Garena accounts may have two pieces of location information: a region based on your IP, and a server if you've changed to a region that is not reflective of your IP

In this image, your IP LOCATION is Malaysia, but your SERVER is Singapore.
No Banned Accounts!
Permanently banned accounts are not eligible for linking, no matter which Riot Game you are banned from.
Great! Now, you know what you need to do in case you do not meet any of the checklist above. However, if you do not fulfill all of the above checklist, then as much as we would hate to say it, you will not be able to do the account linking process.
Progression Freeze
From January 4th–5th, 2023 (UTC+8), no account progression will be tracked for the migration, and you'll be unable to make any additional purchases. This means A-N-Y progression you make during this time—whether it be climbing through ranked, getting new skins, or unlocking challenges—will NOT count post-migration. We'll give you a heads up when these dates are approaching!
Once you've confirmed the eligibility of both your accounts by following the steps above, you'll be able to link your account on Garena Client or LeagueLink starting from November 18th, 2022 10am UTC+8 till early January 2023, and then through the Riot Client after Riot SEA servers go online. Until then, check out our Migration Guide to see how any content/progress you unlock in the meantime will be transferred to your Riot Account and the important key dates and FAQ for a more detailed timeline on when all of this will be happening.
Let's get started!
Make sure you've completed the checklist above.
Log in to the Garena Client or League Link.
Select League of Legends.
You might be directed to follow a series of prompts regarding your Garena Account. Complete these to continue!
Confirm your desired Garena League/TFT Account
Log in to your desired Riot Account, or create a new one.
Follow the prompts to prepare your account for linking.
Continue until you reach the Ready to Link? page, where you can see all the changes that will be made to your account.
If everything looks right, click Link Accounts. YOU'RE DONE!
If you previously ran into an error telling you "It Looks Like You have a Non-SEA League Account" like the one below, we've created new services to help you link your preferred accounts. Go here to see what you can do.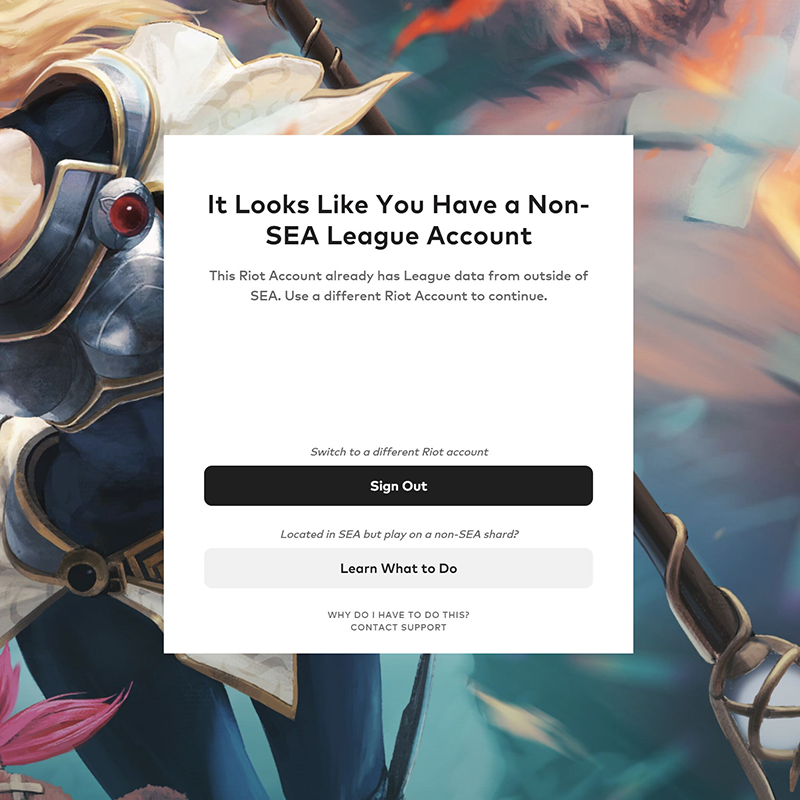 How to Unlink Your Accounts
Account unlinking is no longer available as of January 4th, 2023 (UTC+8).
One-Time 1 Blue Essence Server Transfer to SEA
If you live in SEA but play on a non-SEA Riot Account that you want to use locally following the publishing switch, you're in luck! We're offering an account transfer to the new SEA League regions for 1 Blue Essence to help you bring your account home.
This one-time, one-way transfer will be available starting January 6th, 2023 (UTC+8) running all the way till February 25th, 2023 (UTC+8). After which transfers into SEA will revert to its original cost. This limited time service can be found by going to the Store

and selecting Account

. If you only play TFT and don't have any Blue Essence, don't worry! You'll get what you need by attaining your First Win of the Day, so we recommend you show those bots what's up in Co-Op VS AI.
Just note that this is truly a one-way transfer for the time being, as transfers out of the SEA regions will be disabled to give the new server population time to stabilize.
If you're looking to transfer your Riot Account to SEA and then link it to your Garena Account, remember that some data/progress will be lost in the process! If you've reviewed the migration guide and are at peace with the merge, simply make sure that you transfer your Riot League Account to the same region where you played with Garena. For example, if you played on a Vietnam Garena League Account, you will need to transfer your Riot Account to Vietnam to successfully link both accounts.