Seasons
League of Legends has annual Ranked seasons divided into two splits to help you track your Ranked journey and regularly reward your efforts.
The first split starts early in the year (usually January), while the second begins about halfway through the year before the whole season wraps up near the end (November-ish). You'll begin each new split unranked, but you can jump back on the ladder by playing ten placement games. Once those are finished, you should find yourself at just about a full tier below your final rank the previous split, though results may vary depending on your performance in your placement games and in the preseason.
Also note that the highest you can begin a new split is at Platinum I. If you wanna climb higher, you gotta earn it!
While proving yourself on the Ranked ladder is its own reward, you'll also be granted prizes along the way—especially at the end of each split!
Regalia
Ranked Regalia—the visual representation of the ranks you earn throughout a season—comes in two flavors: Crests and loading screen borders.
Crests display your current rank and appear on your profile, the loading screen, and as an optional border to your Summoner icon in the pre-game lobby.
Loading screen borders display your current rank for the queue you're in (in normals, this is your highest Summoner's Rift rank). You'll also be able to click players in the loading screen to see more information about their ranked status and champion mastery.
Victorious Skins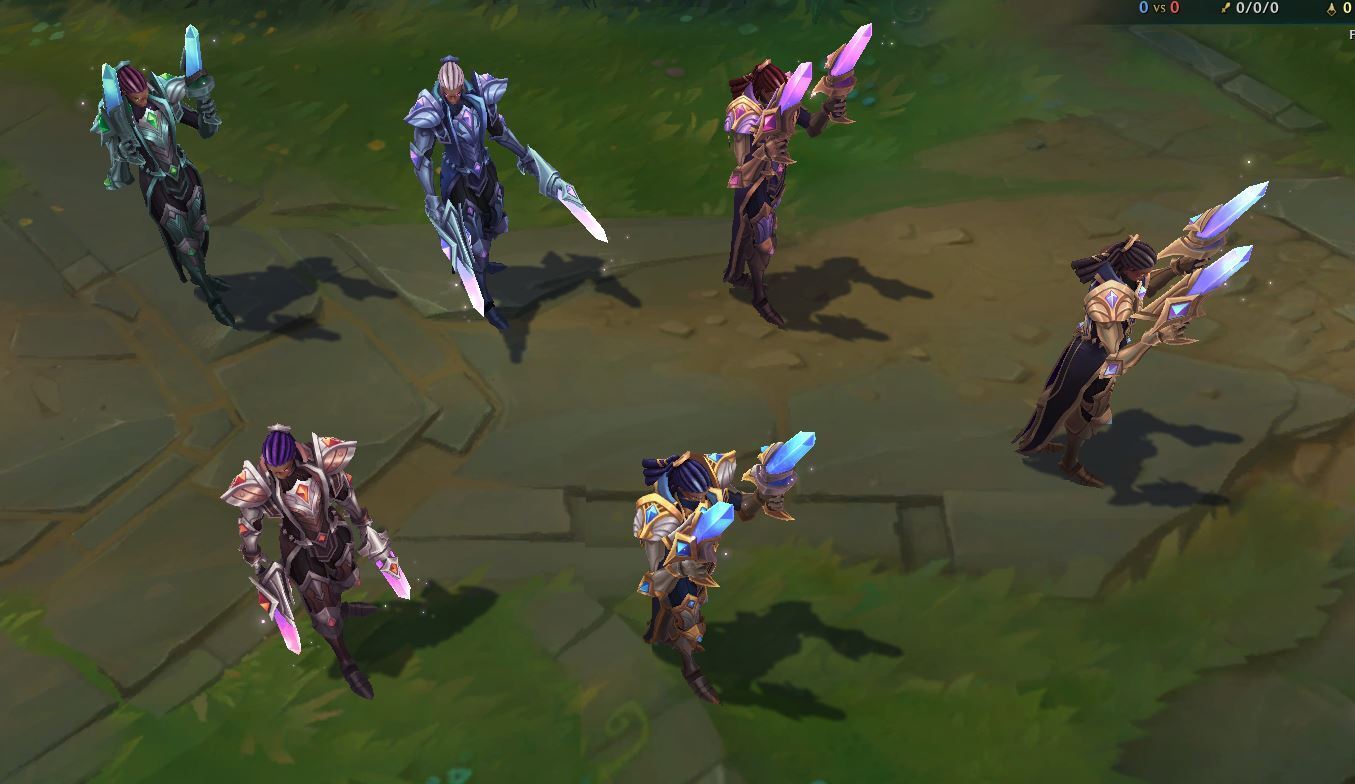 Starting with Season 2023, you can earn Victorious skins just by playing Ranked, earning Split Points, and reaching at least Honor Level 2! How many games you'll have to play/win, however, depends on your rank.
If you're Iron, Bronze, or Silver, you'll need 1600 Split Points for that split's Victorious skin.
If you're Gold or higher, then you'll only need 80 Split Points. (Note that this is true only while you're Gold or higher! If you demote before unlocking the skin, your goalposts will be shifted to 1600 Split Points)

If you're not sure where you stand, hover over the above icon in your Ranked page to see how close you are to getting that split's Victorious skin.
This makes it possible for any player to get a Victorious skin! Just remember: your Victorious skin chromas will be based on your final rank for that split, so there's always a good reason to test your limits and see just how high you can go!
What if I unlock the skin while I'm Gold+, but then I demote down to Silver?
Don't worry! Once you've unlocked the Victorious skin for your split, you'll keep it even if you are demoted. Just make sure you've unlocked it first! If you start in Gold but are demoted before reaching 80 Split Points, your goalposts will be shifted to 1600 Split Points.
Honor Rewards
You'll get some rewards just for reaching honor level 3 or higher, but the exclusive Three Honors skinline will only grace those whose exceptional sportsmanship has brought them to honor Level 5 by the end of the season
End of Split Info
As the end of each split approaches, you can learn what you stand to win on both the League of Legends website and in our End of Season articles. This information usually drops about a month before the end of each split, so stay on the lookout!
Splits
Seasons are divided into two splits, during which you can earn Split Points by playing Ranked games. Earn enough Points, and you'll instantly unlock the rewards shown in the Split Progress Bar at the bottom of your Ranked page. Starting with Season 2023, your rank will reset every split, so you have two chances to show off your climbing skills each year.
Split Points
Starting with Season 2023, we've simplified how you earn Split Points. You'll still need to queue up in either Ranked Solo/Duo or Flex, but you'll get 10 Split Points per victory and 6 Split Points per loss.
Season 2023 Split One Rewards
| Split Points | Reward |
| --- | --- |
| 10 | Hextech Chest |
| 40 | Hextech Key |
| 80 | Random Ward Skin Shard |
| 120 | Hextech Key |
| 160 | Victorious Maokai Emote |
| 200 | Hextech Key |
| 240 | K'Sante Permanent |
| 280 | Hextech Chest |
| 320 | Victorious Maokai Icon |
| 400 | Mystery Emote |
| 480 | Hextech Chest |
| 600 | 500 Orange Essence |
| 720 | Random S1 Eternals Capsule |
| 800 | Masterwork Chest |
Preseason
The block of time after one season ends and before another begins is called the preseason. You'll still be able to enter the Ranked queue during this time, but you won't receive any rewards for climbing to new tiers. Your MMR, however, will continue to change, so do your future self a favor and play to win!
The preseason is also when we tend to make big gameplay changes, which have previously included totally revamping Runes, spicing up the map, and giving items a much-needed facelift. These alterations undergo heavy finetuning during the preseason before going permanent at the start of the regular season, so queue up while we're still figuring things out so you can hit the ground running when the regular season begins!
Transfers and Ranked Placement/Rewards
Ranked standing is unique on each server, so you'll need to play a new set of placement games after transferring. Your placement is also based on your current MMR (which transfers with you) relative to the MMR of everyone on that server, which means you may end up in a different tier or division than your original server.
Additionally, your old rank on your original server will be lost if you don't return within two weeks. If you decide to switch back after that, you'll have to start the process from the beginning, placement matches and all.
For more information on what does or does not come with you between servers, refer to our guide on account transfers.
Other Ranked Resources
Have questions about other aspects of Ranked? Find the answers in our Ranked FAQ!