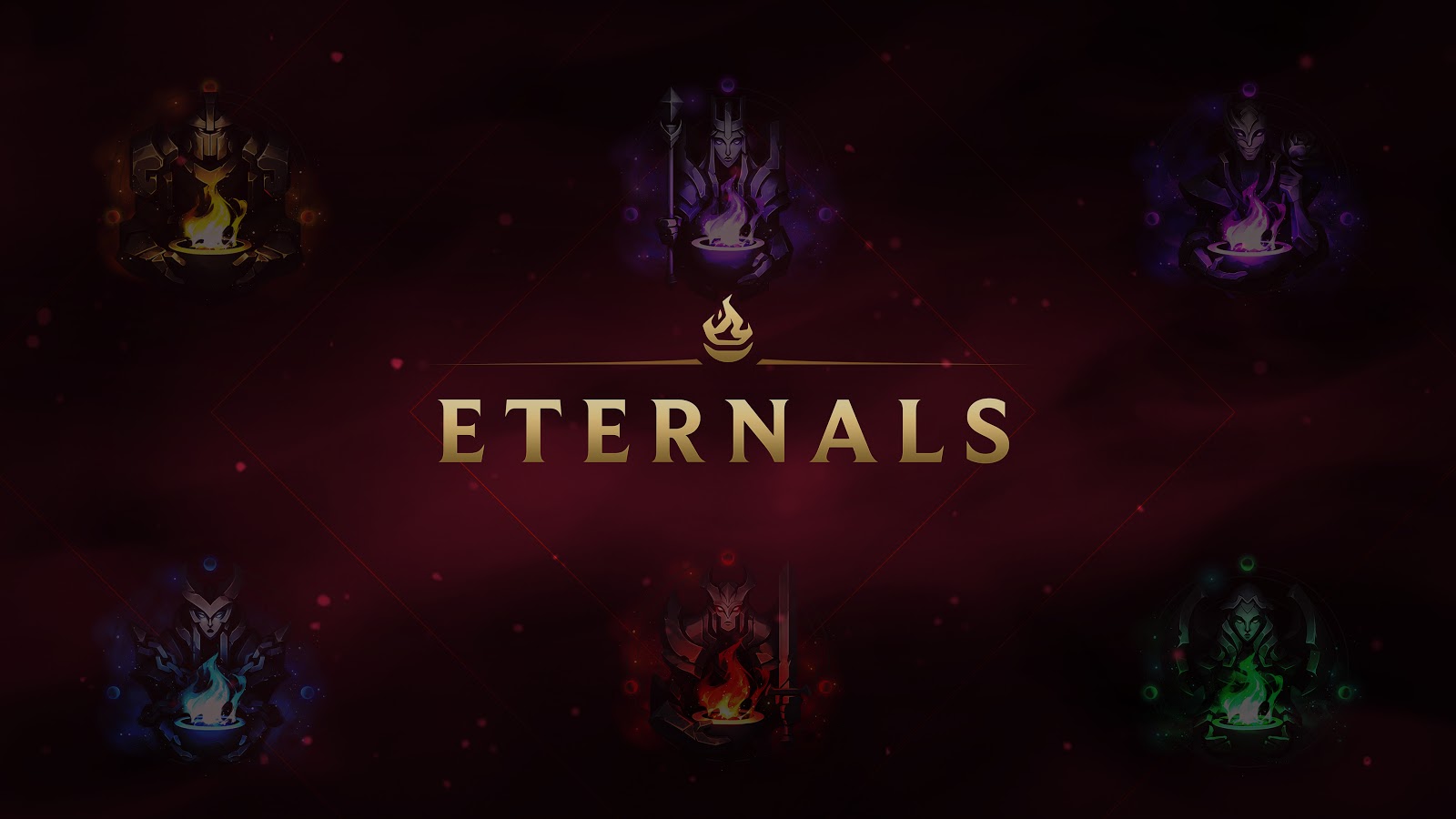 Eternals are champion-specific stat-trackers that capture, celebrate, and flex your moments of glory in and out of game. Track your per-game personal bests and rack up lifetime milestones for things like hooks hit, dunks dunked, and more, while also showing off your accomplishments on your favorite champions.
Read more about the design and function of Eternals in this /dev post.
What are Eternals?
Eternals track both unique and general gameplay milestones on a per-champion basis. When you reach a milestone for an Eternal, you'll see a callout pop up in-game on the side of the screen that Eternal.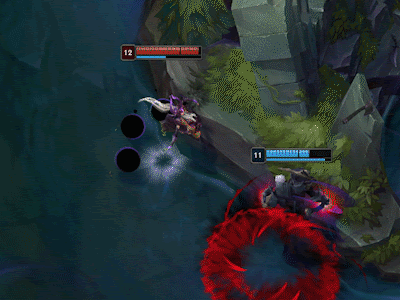 Other in-game features include upgradeable flair for your champion's Mastery emote and a new Player Showcase for your favorite Eternals on the back of your champion card (on the loading screen and on enemies' death screens when you take them down). You can track your progress for each Eternal in the Progression tab of the client when not in a game.
How do I purchase Eternals?
You can purchase Eternals' sets directly from the champion detail page (in the new Progression section) or from the Eternals tab in the Store.
You'll have two ways to purchase Eternals:
Unlock each set one champion at a time if you only care about your mains. This is the best option if you only want Eternals on a couple champions.
For players who want it all, you can pick up a Series Pass that instantly unlocks all Eternals in a particular Series for all champions, forever.
That means that if you buy the Series 1 Pass, you'll get all Series 1 Eternals for every champ that currently exists and all new champs we release in the future.
Where can I see the Eternals I've purchased?
You can check out all of your Eternals in the Progression tab under each champion (go to your Collection and click on a champion). You'll see your unlocked and locked Eternals here, and you'll be able to explore your milestone progress and personal bests.
Will I be able to choose which Eternals I show off?
Yes! You can feature different Eternals in the loading screen and in-game by selecting the "star" icon in the Progression tab for your favorite champs. Feel free to mix and match individual Eternals from different series. All Eternals will still track that stat (as well as milestone) in-game, regardless of whether or not they are featured.
Can I turn off Eternals milestones and displays?
Eternals milestones can be configured to display in three different ways: All On, Self, and Team Only. You can also select None, however, Eternals will always be on the death screen of enemies and on the back of the champion card in the loading screen. If you need a little extra screen space to watch the map while waiting to respawn, you also have the option to toggle the death screen Player Showcase by pressing N!
Do Eternals track in all modes?
While you can showcase your favorite Eternals on the Loading Screen and Player Showcase in any mode, some modes like ARURF do not support Eternals tracking. You can quickly see which queues support Eternals tracking by checking the Points Eligibility information next to the queue name in the pre-game lobby. If you see the Eternals icon, that queue supports Eternals!
How do I unlock Personal Best for an Eternal?
Hit five milestones on any Eternal to unlock Personal Best. A Personal Best tracks your all-time, single-match best for that particular Eternal. Beating your Personal Best in a match fires a special milestone callout for everyone to see!
For example, if your Personal Best for kills was 10 in a single game and you score 11 the next time you hit the Rift, everyone will see a milestone of that accomplishment! After unlocking it, you can see your Personal Best for an Eternal at any time in the Progression tab of your favorite champions.
How do I upgrade my Mastery Emote?
Your champion's Mastery Emote will be automatically upgraded after hitting fifteen milestones across all Eternals in a set. It doesn't matter which Eternals you get the milestones on! All of them count towards a 15 milestone total for that set. This applies to sets in the Starter Series as well!
What happens when a champion is reworked/released, and a tracked stat no longer applies?
Eternals that no longer apply to the present status of a champion will be marked as a Legacy Eternal. These Legacy Eternals can still be featured, even if they no longer track the stat in question (their number will remain the same). The Legacy Eternal will then be replaced by a new Eternal for free in a future update.
Why do the Eternals look like statues? What do they each represent?
The Runeterra universe has a whole pantheon of deities, whose influence shaped many of the religions, ideologies, and myths across all of the modern Runeterran cultures. While the truths of these deities have been lost to the ages, all are still preserved in the celestial realm, shining down on the world through constellations and archetypes. Eternals are the physical homages to these deities who represent different ways of playing.
The Warden

Controlling enemies and the flow of battle

"They can't hit hard if they can't fight back."

The Protector

Keeping yourself and allies in the fight

"Fight until your last breath, then fight some more."

The Empress

Superior demonstration of skill in the heat of battle

"We're not even playing the same game."

The Guide

Following the path to victory, or opening one for allies

"Create the path, light the way."

The Warrior

Crushing foes mercilessly on the battlefield

"It's only 'brutality' if they live to tell the tale."

The Trickster

Deceitful mind games or premeditated chaos

"What's conflict without a little chaos?"
By playing in ways that match each Eternal, you are embodying the theme of these gods, and therefore gaining favor with them. The Eternals' fire burns brighter as your favor grows. Fully rekindle the flames to show your dedication to each Eternal!
Will new champions have Eternals at launch?
All new champions will have Starter Series and other Series sets available a patch or two after release. Reworked champions will also get their other Series' sets a patch or two after release.
Can I gift Eternals?
We appreciate your generous spirit, but at this time you cannot gift Eternals.
Will there be more Eternals series released in the future?
Yes! Feel free to send us your suggestions for cool stats you want to track on your favorite champions!
What are Eternals Capsules?
Eternals Capsules are Loot you can earn... for free! If you're familiar with skin shards, these work in a similar fashion. Simply complete missions or play in a ranked game during events. Once acquired, you can use Orange Essence to unlock Eternals for a champion. You'll also receive two random RP-only Eternal Set Shards for champions, along with some Orange Essence, when you open the Capsule. You can learn more about Eternals Capsules, along with more changes to Eternals here.
Does changing which Eternal I'm featuring reset any of my tracked stats?
No, your Eternals will continuously track their respective stats and milestones even when they're not featured.
Do I need to own the champion before I buy their Eternals set?
No, you can unlock Eternals for champs you don't yet own.
Will milestones ever be re-tuned or adjusted?
Since League is an ever-evolving game, it is possible that milestones for specific Eternals may be adjusted based on changes to a champion or the overall meta. But if we ever do re-tune the number of milestones your stat represents, you'll retain the stats you've earned on that Eternal. We'll be keeping a close eye on how players progress through their milestones over time and tweaking accordingly!
Can I refund Eternals?
You sure can. Eternals are refundable per the refund policy in the Store. Note that your stats will be reset to zero if you refund!
Is there a level requirement to purchase, feature, or see Eternals?
Nope! You'll be able to experience Eternals from level 1.