What are ward skins?
Ward skins are customization options for the wards or trinket totems that you use in-game. They reskin the default ward/trinket to look like something new and sometimes even come with a special sound effect when placed on the map.
Themed ward skins are commonly released during events, like the Slaughter Fleet and Mother Serpent Wards. These skins are often only available for a limited time.
How do I purchase ward skins?
Click on the store button in the client and click the Accessories tab
Open the Ward Skins category
Unlock the ward skin you wish to purchase
Some ward skins are only available for purchase for a limited time or obtained as rewards and may not be available in the store. Keep an eye on the News section for current events and ward skin promotions!
How do I use/equip my ward skins?
Select your ward skin in Champion Select: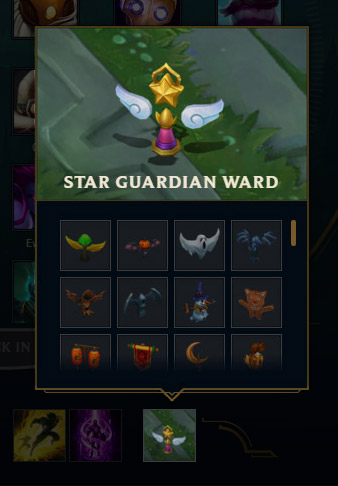 Can I gift a ward skin to a friend?
Yes! Just visit the Gifting Center tab in the store and select "Unlock a Ward Skin for a Friend."