Before Making a Purchase
To avoid potential errors, please ensure:
The card is properly funded.
The billing information you enter, such as your billing address, matches the information provided to your credit card provider.
There are no blocks on your credit card account (including international or e-commerce blocks).
If you're using a prepaid gift card, make sure it's been registered and activated before attempting to use it.
Which credit cards are accepted?
You can use the table below to find which cards are accepted based on your server.
| | |
| --- | --- |
| Server | Credit Cards Accepted |
| BR | Visa, Mastercard, Discover, American Express, Diners Club, Aura, Hipercard, Elo |
| EU | Visa, MasterCard, Discover |
| JP | Visa, MasterCard, JCB |
| LAN | Visa, MasterCard, American Express |
| NA | Visa, MasterCard, Discover, American Express |
| OCE | Visa, MasterCard, Discover |
| RU | Visa, MasterCard |
| TR | Visa, MasterCard, American Express |
My transaction failed, but my credit card was charged!
You are most likely experiencing a pending charge, which will typically occur when a transaction fails. Your financial provider will hold the funds for about 3-5 business days before releasing them. These funds never reached our payment system, and therefore we do not have control over when the funds will be returned to you. For further information, please contact your credit card provider.
If the transaction is not marked as pending, please contact your bank or credit card provider to check if the funds have been fully removed from your account. If this is the case, please submit a ticket with the following information:
The first six and last four digits of the credit card
The purchase amount of each transaction you believe to be in error
The date of each transaction you believe to be in error
Any errors that occurred while making the transaction
Whether or not the credit limit has been reached on your account
I'm getting an error when I try to complete my purchase!
That's not good! You can give our handy-dandy list of potential errors that may pop up for some troubleshooting steps that may help.
Can I get a refund for the purchase I made with my credit card?
That depends! Check out our Refund Policy for more information. If you're requesting a refund due to fraudulent activity, please contact us immediately, and we'll be happy to investigate.
Someone made a purchase with my credit card without my permission! What do I do?
If any unauthorized purchases have been made on your credit card account, you should immediately change your password and keep a close watch on your transaction history through our store.
Please contact us as soon as you notice any suspicious activity that may have occurred from Riot Games on your credit card. The sooner you contact us, the quicker we can investigate the situation and prevent any further damage. For more information, read our article about what to do in the case of credit card fraud.
Credit card payments are disabled in my region! When will they be back?
Unfortunately, we can't provide exact estimates for when we'll be able to restore credit card payment. For further updates on this issue, please keep a close eye on our social media pages and website for announcements. In the meantime, we recommend that you use PayPal to link your credit card to purchase RP.
I don't want my credit card information to be saved in the Riot Client.
No problem! You can uncheck the Save this credit card for future use box when you first enter your card information to prevent it from being saved.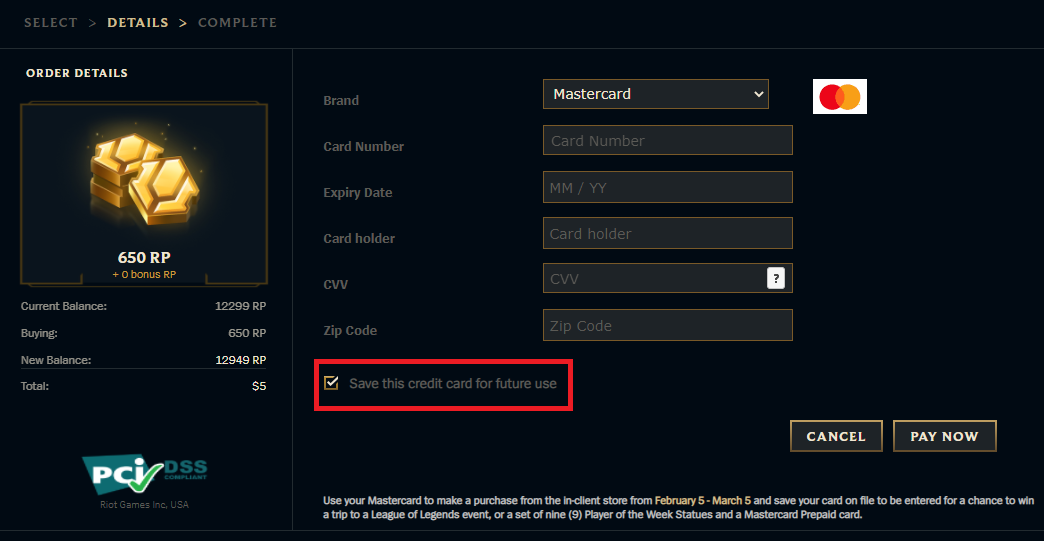 If you have a credit card saved to your account that you'd like to remove, please visit this guide for steps on how to remove it from the client.