---
Before Making a Purchase
To avoid potential errors that may occur, please ensure that you have done the following:
Ensure the card is properly funded.
While entering your billing information, make sure all fields have been entered properly and that the information entered matches that assigned to your credit card.
For prepaid gift cards, make sure they have been properly registered and activated with the card provider.
Verify that there are no blocks on the card account.

---
Removing Credit Card Information
After making a transaction with your credit card, you may notice that the credit card profile is now saved. Saved credit card profiles make it easier for you to do future purchases.
However, there are many reasons why our players would want to remove their credit card profiles. Even though the billing information is securely stored separately from our game servers, some players want an extra layer of security. Additionally, for purchases on accounts where a child might play on, it would be a good idea to remove the card to prevent unwanted charges.
Click on the store button and select "Purchase RP".
Select the credit card payment option. Choose any Riot Point bundle of your choosing. Don't worry -- you do not have to complete any purchases to remove your credit card!
Select your credit card from the drop down menu and press Delete.

---
Frequently Asked Questions
What credit card providers are accepted?
Discover, Master Card, and Visa are accepted on all servers. American Express is only accepted on the NA server.
My transaction failed, but my credit card was charged!
You are most likely experiencing a pending charge, which will typically occur when a transaction fails, but your financial provider continues to hold the funds temporarily for about 3-5 business days. Please note that these funds never reached our payment system, and therefore we do not have control over when the funds will be returned to you. For further information, please contact your bank.
If the transaction is not marked as pending, and you believe the funds have been fully removed from your bank account, please submit a ticket to us with the following information:
The last four digits of the credit card number:
The amount of each payment you believe to be in error:
The date of each payments you believe to be in error:
Any errors that occurred while making the transaction:
Whether or not the credit limit has been reached on your account:
Can I refund my credit card purchase?
Unfortunately, we are not able to reverse any monetary transactions, as these purchases are nonrefundable. If you are requesting a refund due to fraudulent activity, please contact us immediately, and we will be happy to further investigate the issue.
There have been unauthorized transations made on my credit card! What do I do?
If these fraudulent transactions are being made on your account, change the password for your account immediately, and keep a close eye on your monetary and content transaction history through our store.
Please contact us as soon as you find out about any suspicious transactions that may have occurred from Riot Games on your credit card. The sooner you contact us, the faster we will be able to investigate the situation and prevent any further damage. For more information, read our article about what to do in the case of credit card fraud.
Credit card payments are disabled in my region! When will it be back up?
Unfortunately, we are not able to provide exact estimates for when we will be able to restore credit card payment. For further updates on this issue, please keep a close eye on our boards for any new announcements. In the meantime, we recommend that you use PayPal to link your credit card to purchase Riot Points.
I have an American Express card. Where is my security code?
Here:

---
Common Errors
"You have encountered an error. Please try again later."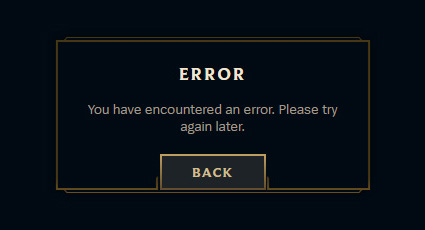 Internet Explorer is a dependency of League of Legends. Many facets of League of Legends, including the store and login screen, are affected by your Internet Explorer settings. This is true even if you have a different default browser. For this reason, many common errors with the PVP.Net portion of League of Legends can be resolved by restoring your Internet Explorer settings to default.
Open Internet Explorer.
Navigate to Internet options.

Please note that this may look different depending on your version of Internet Explorer.

Navigate to the Privacy Tab.

Change your slider to Medium. Click Apply to save your settings.

Restart League of Legends.

OPTIONAL - If you find that you still have issues, you may be required to reset your Internet Explorer settings to default. Please proceed to steps 6 and 7 to do so.

Click on the Advanced tab and select the Reset button.

Check "Delete personal settings" and click the Reset button to begin the process.
"We apologize, but our store has encountered an error. Please contact us at http://support.leagueoflegends.com/ for additional support."
This error is typically caused by your billing information. Please check the following:
Incorrect credit card number: If the credit card number you have entered is invalid, our system does not know which financial provider to contact to verify your information. Please verify the numbers you have entered and try making another transaction. Keep in mind that you should not include any spaces while typing this number.
Miscommunication between your game client and our store: Restart your game client and try the transaction again in 15 minutes. It may take a few tries for the transaction to complete successfully.
Your bank is having difficulty completing your transaction with our bank: If you believe this is the case, please contact your bank for further information about how to troubleshoot this. If you have made multiple transaction attempts, you may be blocked temporarily from making further transactions for security reasons.
"Your card information is invalid."
"Please confirm the information before trying again. If this problem persists, please contact your card provider for more information."
This error occurs when we are unable to pinpoint the card provider you are using from the card number you have entered. Please make sure that you have entered in your card number and 3-4 digit security code correctly without any spaces.
"Your payment attempt has been declined by your card provider."
"Please contact your provider for more information."
There are many reasons why your credit card may be getting declined, from lack of appropriate funds to an incorrect billing address. To further narrow the possibilities, we highly recommend checking the following:
The credit card number is typed in correctly without any spaces.
Your card is able to support online and international payments.
There are enough credits/funds to complete the transaction.
The 3-4 digit security code is typed in correctly. This code is typically on the back of your card, but some cards, such as AmEx cards, may have the code listed on the front.
Your bank has restricted access to your card for security reasons.
We highly recommend that you contact your bank for further information as to why you may be experiencing this issue. If this problem persists, please consider completing your credit card transaction through PayPal.
"You have exceeded the maximum number of attempts at this time."
"Please wait 24 hours and try again later."
As a security precaution, we have been forced to limit the amount of transactions attempts you can make within a day. Keep in mind that this applies for the amount of times the same credit card is used on various accounts AND the amount of times a single account uses various cards.
f your credit card is being declined or if you are running into an error, restart your client and double check all of your credit card information before attempting again. Avoid making too many transaction attempts, as this may cause further issues with your store account. Please wait 24 hours before initiating another purchase. If you continue to experience this issue, please submit a ticket to Player Support, and we will be happy to further investigate this issue.