PayPal is a payment feature that allows users to purchase RP through online money transferring. Your PayPal account will be required to be financially funded with a bank account, credit card, or debit account. With a PayPal account, you will be able to easily make purchases without having to enter your credit card information when you wish to make a purchase. For more information about PayPal, please click here.
---
---
Countries Supported by PayPal
Currently, all the countries listed in our League of Legends store support the PayPal payment feature. For the full list of countries please click here.

---
How to create a PayPal account
Start this process by going to http://paypal.com.
Click on the blue Sign Up button.
Click the flag icon to select your region and language, select Personal Account and click the blue Continue button.
Fill out the form and tick the box after reviewing the Terms and Conditions.

Before your account is created, you will be prompted to pass a verification challenge for security purposes.
Once you have successfully created your account, you will be asked to link a payment method to your PayPal account.
Once the payment method is linked, you are all set to purchase RP with PayPal!
If you have any other questions, please have a look at PayPal's own Knowledge base article here.

---
How to purchase RP with PayPal
Go to our in-store client by clicking on the store button underneath your summoner name. Select the "Purchase RP" button.
Click on the PayPal payment method. Choose the bundle that you would like to purchase.
Once you have selected your bundle, input your PayPal information to successfully log into your PayPal account.
Once you have logged into your PayPal account, you will be required to review your transaction. If everything looks correct, click the yellow Continue button to proceed.
Click on Pay Now to successfully finish your transaction.
Congrats! You're done! Remember to keep records of all your transaction IDs for future reference.

---
What is a PayPal Billing Agreement?
You now have the option to create a Billing Agreement with Paypal if your League account's email address is verified. A Billing Agreement lets you make Paypal purchases through the client without needing to log into Paypal. It's completely optional, so if you'd prefer not to make the agreement, you don't have to.
The option to save your payment information will appear as a checkbox on your Order Complete screen, like this: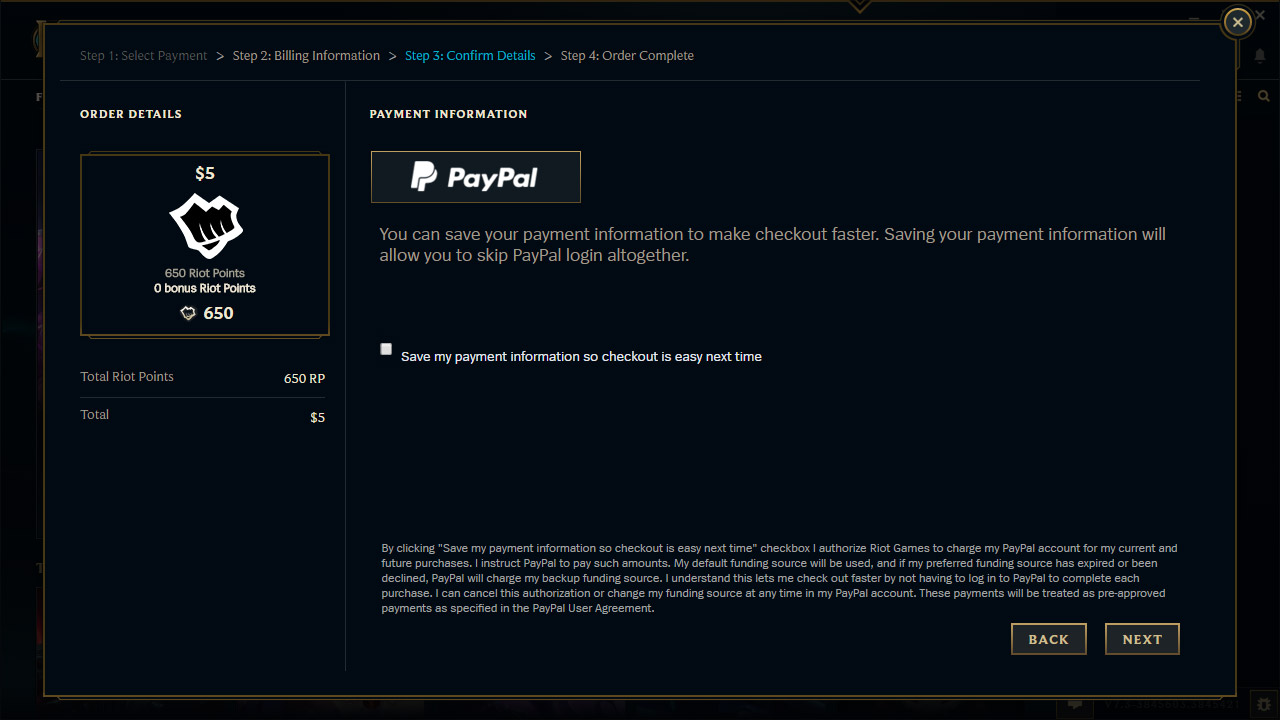 If you make the agreement and decide you'd like to cancel, do the following:
Open the League of Legends store
Click on the Purchase RP tab
Select Paypal and choose a price
Click on the "Cancel Billing Agreement" button
Keep in mind that if you change your League email, it will automatically remove the Billing Agreement, and you'll need to set it up again.

---
Common Issues
ERROR: "You have encountered an error. Please try again later."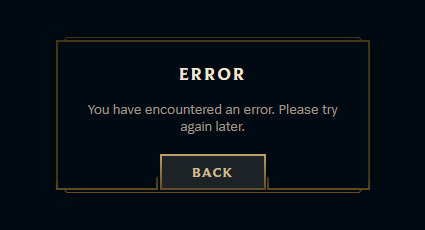 Your credit/debit card is not currently verified on your PayPal account

Either your credit card was never fully verified, or PayPal is requesting that you reverify your information. You can find out if your payment method for Paypal needs to be verified, log into http://www.paypal.com and navigate to the "To Do" section on your Account Overview page.

There is a discrepancy in your billing information listed on PayPal

PayPal may be having issues verifying your billing information. This will typically happen if there have been any recent changes to your information.

An error is occurring with your network that is causing the transaction to time out.

There was a connection issue between PayPal, your computer, and our store. To further troubleshoot, please submit a ticket to Player Support with your Network Analysis. You can learn more about how to obtain a Network Analysis here.
ERROR: "This payment cannot be completed and your account has not been charged. Please contact your merchant for more information."
This error will occur when PayPal is having issues processing your payment. The reason for this may range anywhere from your account being blocked to an error in PayPal's system. To further troubleshoot this, we recommend that you contact PayPal directly.
I was charged for my transaction, but I never received my RP
It sounds like you are experiencing a delay in receiving your RP. Please check your PayPal transaction history to confirm that the purchase went through successfully. If it has, please submit a ticket with the following information:
Account (log in) name:
Summoner (in game) name:
Your PayPal email address:
Unique PayPal Transaction ID:
Date and time of purchase:
With this information, we will be able to further investigate the issue and make sure that you receiving your RP appropriately.