Smart Ping is a radial menu that includes four alerts. These can be used to communicate with your team faster than taking the time to type and breaking your flow of gameplay.
Just a heads up--we've got a (relatively) new ping, "Area is Warded," which isn't on the smart ping bar. Looks like this: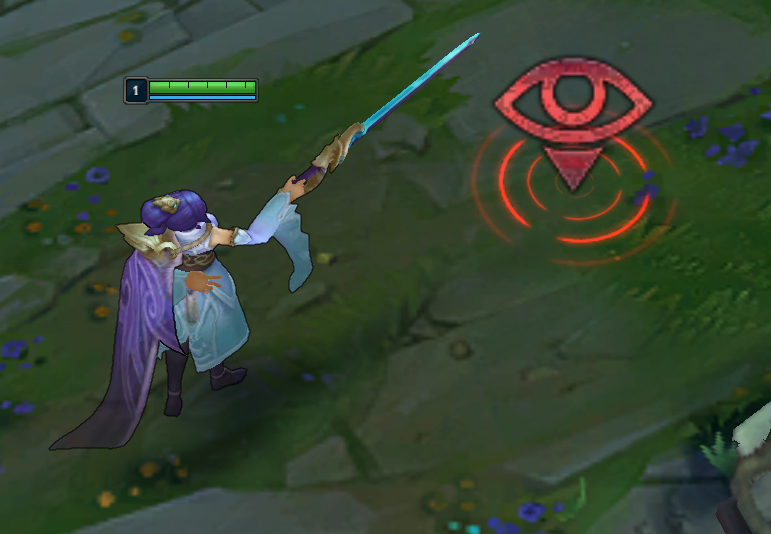 It looks very similar to the "Danger" ping on the minimap, but you can differentiate it by sound.
In order to use it, press escape to go to the menu, select "Hotkeys," expand "Communication," and add a button to "Area is Warded Ping."
---
Smart Ping Menu
Open up the menu by holding down the Alt, Ctrl, G, or V keys and then left-clicking. You can select one of these four pings by dragging your mouse in the direction of the desired ping and releasing the mouse button. This can be used either on the terrain or minimap.

---
Terrain Visuals - Smart Pings
Depending on the Smart Ping selected, there will be different visuals that appear on the terrain.
| | | | |
| --- | --- | --- | --- |
| Danger | On My Way | Assist Me | Enemy Missing (MIA) |

---
Terrain Visuals - Regular Pings
The two regular pings available before the introduction of Smart Ping also have their own visuals on the terrain.
| | |
| --- | --- |
| Basic (G or Ctrl) Ping | Caution (V or Alt) Ping |

---
Minimap Visuals
In addition to the ping-specific visual on the terrain itself, pings are also distinguishable on the minimap.
| | | |
| --- | --- | --- |
| Danger | On My Way | Assist Me |
| Enemy Missing (MIA) | Basic (G or Ctrl) Ping | Caution (V or Alt) Ping |