There are some settings in macOS which have been known to interact poorly with League of Legends. We generally recommend disabling them while playing the game to avoid interruptions with the game client.
Hot Corners
This feature allows you to move your mouse cursor to any one of four corners of your screen to trigger a variety of different features. This allows you to do things like open certain windows, transition to the desktop, start your screensaver, or even put the display to sleep. However, this has been known to cause issues with the game client; we recommend disabling it prior to joining a match.
You can do so by doing the following:
Go to the "Apple" menu on the top left corner and click on "System Preferences."
Once there, click on "Desktop & Screen Saver," and then Screen Saver, followed by "Hot Corners…"
From there, you can choose to change your Hot Corners preferences, make them "-" or add modifier keys so they won't be accidentally triggered in-game.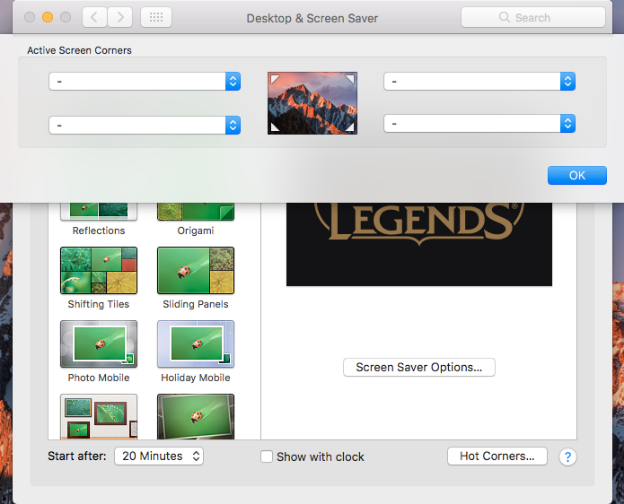 Shake Mouse Pointer to Locate
This feature allows you to quickly find your pointer by shaking it. While you're shaking it back and forth, the size of the cursor increases rapidly so you can quickly spot its location.
However, this interaction with the game client causes the game client's performance to drop or suspend temporarily. As such, we recommend disabling it.
This can be achieved by doing the following:
Go to the "Apple menu" on the top-left corner and click on "System Preferences."
Once there, click on "Accessibility" and then "Display" from the left-side panel.
From there, uncheck "Shake mouse pointer to locate."