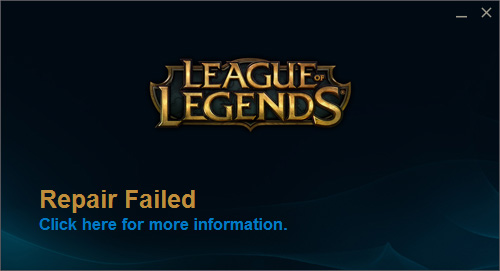 The full repair function can fail for a few different reasons, like having an old disk drive or not having permissions to write to your drive. If you receive an error when trying to repair League of Legends, try the following steps.
Each of these steps is a unique solution, so we've ordered them starting with the simplest fix.
First, restart your computer and try to repair again.
Make sure you are connected to the internet with a wired connection if possible.
Check how much free space your disk drive has. You need at least 8GB of free space for League of Legends to repair and patch properly.
Double-check that League of Legends isn't running any processes in the background. You can do this by checking your task manager in Windows (ctrl+shift+esc) or the activity monitor on Mac (command+space, type "activity monitor," hit enter).
If your computer has multiple users, make sure other users do not have League of Legends currently running.
Ensure that your disk drive is operating properly on Windows by running chkdsk:

Hit start, type "chkdsk", and hit enter.
Follow the on-screen prompts to check your hard drive for errors.

Ensure that your disk drive is operating properly on Mac by using Disk Utility:

Select the Mac hard drive from the left side menu and click on the "First Aid" tab.
Click on "Verify Disk" in the lower-right corner and let it run.

If your hard drive is functioning properly, you'll need to test your RAM:

Open the "Start" menu and type "Memory" into the search box. In the results, select "Windows Memory Diagnostic."**
Select "Restart now and check for problems" (be sure to save any open files!).
Run through the resulting troubleshooter once your PC restarts. If any errors occur, then this is most likely a RAM issue.
** If you're using Windows XP, there is no built-in memory diagnostic. Try using memtest, a free third-party software used to diagnose memory issues. You'll find instructions on how to use it on their site, but let us know in a ticket if you have any questions about the test.
If all else fails, please submit a ticket with your logs so we can try to identify what's causing your repair to fail. Reinstalling League of Legends may also resolve the issue.